The best weeding tool in the world!
You might even call it the Wheel Hero. Atleast that's how you feel when using it. By working with both of your arms, legs, back and shoulders you get so much force and can work very fast. The Wheel Hoe has stepless height adjustment for the handle to fit everyone no matter height.
When buying the Wheel Hoe the 25 cm standard blade is included. The additonal tools are bought separetly.
Accessories: Hoe 25cm and 35cm and 50cm, Edge Cutter, Plow For Earthing-Up, Snowplow 70cm wide and Gravel Rake 1m wide.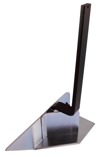 The Lawn edge trimmer
Fastest Edge Cutter on the market. Provides very good precision.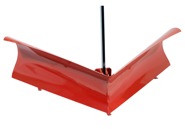 Snowplow 80cm
Stop shoveling!
With the Snowplow can you easely do 70cm wide paths. You can even run with it if you are in a hurry.

Plow For Earthing-Up
Use the plow for earthing up in the vegetable garden to potatoes, onions and carrots.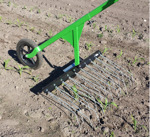 Weed Harrow
The idea of ​​Weed harrow is intended to replace a large share of manual labor during the first part of the growing season in vegetable cultivation . It is this time that is most time consuming and costly . The long tines oscillate sideways and moves the earth and cover the small weeds . Thus, it is important to run in time. The advantage of the harrow is that one can drive over the line when the seedlings are well established about 4-5 cm (varies in different types of crops) without damaging them . The working speed : the faster the better.